11 Nov

Colour Run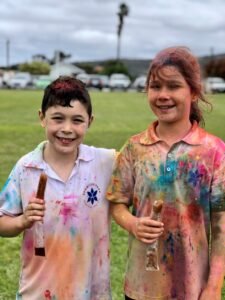 Our annual Spencer Park Primary School Colour Run fundraiser held on Friday 6 November was a GREAT success. Our whole school community came together after our 2020 SPPS Faction Athletics Carnival for a fabulous colour-infused afternoon.
Any post carnival fatigue was pushed aside as the school oval was transformed into a colourful and vibrant circular obstacle course. Students excitedly ran, walked, slid and waded their way through the wet stations before being squirted with coloured powder by staff, parents and grandparents.
Judging by the smiles and laughter around the oval, it's difficult to decide who had more fun – Staff and parents? Or our fantastic students? Take a look at the photos now.
A huge thank you to our dedicated P and C volunteers for the time and effort they invested into organising the event for our school community.