18 Feb

Swimming Lessons at Emu Point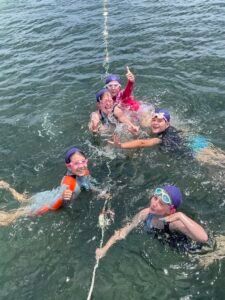 This week our Year 4, 5 and 6 students have been enjoying their annual swimming lessons in the sand, salt and sunshine at Emu Point. So, how did they go? Mrs Kowald's students have reflected on the week and share with you their thoughts:
Cairo –

I learnt how to swim 10m freestyle and now I'm stage 4. I had a good time at Emu Point, it was hard but I did it!
Brax – I had to learn freestyle, backstroke, survival backstroke and breaststroke.  I saw a lot of fish and I even jumped off the jetty, I had a great time! On the last day Hayden showed us a blue ringed octopus, a wolf spider and a blue bottle jellyfish.

Mia –

I really improved my survival backstroke, it was hard at first but I loved it and now it is one of my favourite swimming techniques. Tonia was the best teacher I ever had. My favourite thing after swimming was Mrs Kowald's warm yummy milos.
Brooke – I liked the bus because it was warm. It was fun to look at houses on the way to swimming and I found two mansions I really want to buy one day.

Lewis –

I was nervous, I had never swam at the beach so it as hard. When I got to my station I saw I was with some higher stages, 6 to 9 and my teacher was Lily. She was great but the water was really cold. On the last day I swam 50m of freestyle, backstroke, breaststroke and survival backstroke. It was ok because we got to do dives and save people.

Edyn –

I did 25m freestyle and 15m of backstroke. We had so much fun at the beach and I saw ten fish and little tiny crabs.

Imogen –

On the second day we found a fish in the water near the jetty with my swimming instructor Ella.
What a great experience for our students. Click here to see some of the swimming action.