02 Aug

Doing Your Best and Honesty & Trustworthiness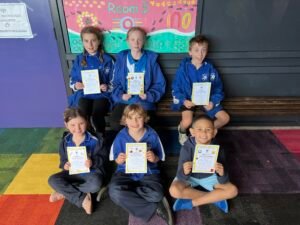 At last week's mini assembly we celebrated our Spencer Park Primary School value Doing Your Best.  Congratulations to Chase, James, Lucas, Detroy, Evie, Tahi, Johnny, Doreen, Kaylarnee and Isaac. These students were recognised for doing their best.
At yesterday's mini assembly, Kasey, Clara, Darcy, Bryce, Oskar, Hudson, Brooke, Skye and Anakin were awarded values certificates for their Honesty and Trustworthiness.
Being honest and trustworthy means to:
Be someone others can depend on
ALWAYS tell the truth, even if it's hard
Own up to your mistakes, it will be ok
Make the right choices…EVEN when the teacher or your mum/dad is not looking
Don't lie
Be honest and seek the truth
Great advice from our students! Congratulations to all of our students who strive to do their best, be honest and be trustworthy in the classroom, playground and our community.