06 Apr

Respect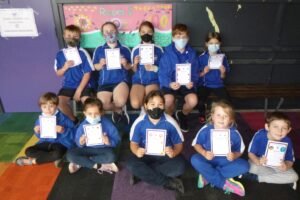 At this week's mini-Assembly we celebrated our school value – Respect. When our SPPS students were asked what Respect means to them they had some GREAT points to share. They said being respectful is:
Making your decisions based on what is right
Acknowledging others
Being kind to others
Using your manners
Listening to other people's thoughts
Speaking kindly to others
Caring for other people's things
This week's Values Certificate winners are: Jude, Ed, Aroha, Harmony, Tyler, Elena, Alyssa, Felix, Lola and Isabel.
Congratulations to all our students who strive to be respectful in the classroom, our playground and the community, particularly our Value Certificate winners.