18 Dec

Year 1 Sprinkler Party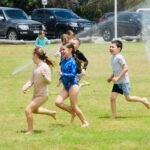 The squeals were delightful and the giggles were infectious as the Year 1 students celebrated the end of a challenging yet very productive year at Spencer Park Primary School with a sprinkler party! The children had a GREAT time ducking, diving, weaving and running under the sprinklers on our school oval.
Once the water play wrapped up the children changed into warm clothes and enjoyed a relaxing picnic under the shady trees with their fantastic teachers Mrs Dowsett, Mrs Macaulay and Mrs Collins.  What a great way to end the school year. Photos of the sprinkler party are here.