25 Sep

Weekly Wind Up

Welcome to Spencer Park Primary School's Weekly Wind Up where we celebrate the week and share what's been happening at school.
Pursuits of Excellence
It's been a very busy term and students strived to achieve their best in the classroom and in the playground.
Pursuit of Excellence winners were celebrated today, 25 September 2020 at our final assembly for the term, hosted by Room 8.
Pursuit of Excellence certificates are awarded for consistent effort in such instances as taking pride in achievements and having high work output, striving to improve at own level, having a positive and responsible approach to learning, embracing challenges. Certificates are also awarded for consistent citizenship and respect, such as being actively involved across all areas, showing consideration for others and respect for themselves, their bodies, attitudes and own learning.
We congratulate the following students who received certificates:
Y1 (R24)  Ebony
Y1 (R25)  Jack
Y2 (R19)  Cody
Y3 (R1)  Lilly
Y2/3 (R1)  Isaiah
Y3/4 (R3)  Harrison
Y4/5 (R8)  Storm
Y5/6 (R9)  Lexi
Y5/6 (R11)  Venja
Science  Agyarko (Y5, R11)
Music  Kaylah (Y2, R2)
HASS  Caiden (Y6, R11)
Room 8 Assembly
Thanks to Room 8 for putting on a fantastic assembly this morning, Friday, 25 September.  Their performance was lively and toe-tapping.  We really enjoyed it so much, we couldn't resist an encore performance of their Happy routine.  You can see from photos, they did well and had a great time.
Newsletter Competition Winner Announced
Congratulations to the Holland family who can now enjoy a $10 canteen voucher after being first to find the secret code in our newsletter.
Didn't get a copy of our latest newsletter? We post links via SMS, email and Facebook each fortnight.  Email us to make sure we have your latest contact details or head to our Facebook page and follow us.
Chatterbox Writing Success
The Seven Steps program encourages students to learn via chunking. Lessons focus on one specific skill or technique. In this lesson, Room 8 students focused on 'Step 1 plan for Success'. Students wrote down possible heroes, heroines, villains and problems and created a 'chatterbox'. The chatterbox was used as a random ideas generator and students let their imaginations fly by creating possible story scenarios, as you can see from their photos. Their favourite story brainstorms were written down and plotted on a story graph.
Simile Poetry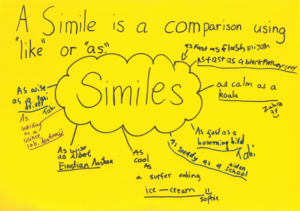 Room 3 have been working on identifying and writing similes. They have written individual pieces of poetry about themselves using similes only. You can see the poster they made with some of their similes. They then collated those to pick the ones they liked the best and made them into a class poem, which you can read below.
The writer of this poem is …
As fast as a humming bird
As cool as a surfer eating ice cream
As wise as a taxi driver
A tough as a diamond
As timid as a first day of school teacher
As steady as a school
As brave as a parent
As interesting as a science lab
As calm as a bath bomb in a bath
A class of one in a million…
Or so the poem says…