30 Jan

Welcome to 2021 at Spencer Park Primary School!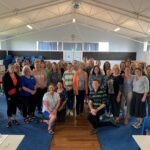 Welcome to Spencer Park Primary School for the 2021 school year! We hope that our school community has had a safe and enjoyable holiday period, along with a very well-earned break!  Only two more sleeps until Term 1 commences, are you excited? Nervous? Not sure?  Our fabulous team (Please click to see our team) at Spencer Park PS are VERY excited to see our returning students again and warmly welcome our new students and their families.
Our team hit the ground running this week with two staff development days. We learnt lots of new and interesting things that we will be putting into place to assist and support our students this year. We hope you're ready for a busy, fun and exciting year at Spencer Park Primary School as we are looking forward to working with and inspiring our students, families and our wider school community.
Remember to pack your hats, water bottles and smiles on Monday morning. 
Semper Tenta | Always Strive